The Best Cincinnati Landscaping Ideas
If you're searching for the best landscaping services in Cincinnati for your commercial or residential property, then you're in the right spot! At Evergreen Landscaping we handle every project with integrity and professionalism, and we leave your outdoor space looking exceptional. We are a different kind of landscape design company because we pay attention to every detail no matter the size. We don't gloss over a single aspect because we know that everything ties together to give you a completed and aesthetic landscape. Our services are comprehensive when it comes to landscape design, installation, and maintenance.
Expert Landscaping Services
Our landscape installation will be superior to many in the industry because we apply the best practices and always come prepared with the best equipment. We take front yard landscaping ideas from concept to beautifully executed results. Once the installation is complete, we'll provide additional services if you require them such as routine maintenance, incorporating custom features such as water fountains and fire pits, as well as offer landscape lighting. Our experience ranges from jobs that are small in size to large projects that require professional-grade equipment such as tractors and Bobcats.
Complex Landscaping Project Coordination
Evergreen Landscaping often times acts as a general contractor and a project manager for many complex projects. We regularly manage plumbers, electricians, painters, and other service companies on large jobs. If you would like for us to coordinate and manage your big swimming pool installation, sunroom installation, etc. as a part of your total landscape transformation – call us. We will manage the entire process, and make sure that we hold the subcontractors to the same level of detail and quality that we pride ourselves in.
Reliable Landscapers And Custom Designs
Landscaping renovations are a wonderful way to give your scenery a boost and to add value to your outdoor space. We can add retaining walls and create patios that will expand your home and give you more room for entertaining and relaxing. Our backyard landscaping ideas are custom made and discussed in full with you so that we meet all of your expectations. If you want to incorporate some sturdy and lovely stones, we can share with you some hardscape design ideas that will be ideal for your surroundings. We want to make sure that you're outdoor living space is going to an area that you'll enjoy for years.
Complete landscape design, installation, and maintenance

Retaining walls and custom patios, walkways, driveways –
Both Natural and Manufactured Stone and cement

Low voltage landscape lighting – FREE DEMONSTRATIONS

Custom water features, fountains, and bubbling boulders

Complete tree, brush, and stump removal

Concrete pressure washing and sealing

Complete lawn treatment, aeration, slit seeding & weekly mowing service

Bobcat, tractor, track dingo service also available for big jobs!
Whether you're searching for patio and garden ideas or you simply want to improve your curb appeal before you put your property on the market, our expert crew will be of service. Please ask us any questions and let us know what your vision is for your landscape, and we'll bring the best designs and features available to ensure that you get exceptional results that you'll love. Our landscaping experts are friendly, knowledgeable, and always ready to give you a quote for the landscape in Cincinnati that you've always dreamed of.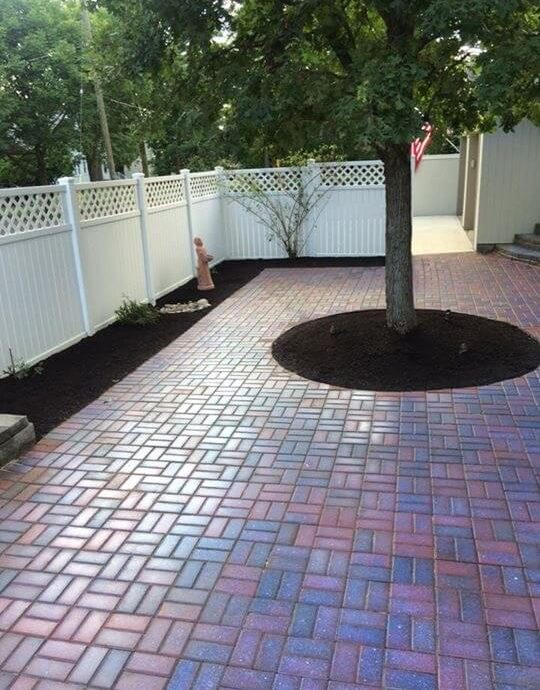 Contact Our Team For Services And Job Opportunities

If you're ready to find out more about the services that will enhance your outdoor area in Cincinnati, then reach out to our customer service today! Beyond providing exceptional services for our customers, we also enjoy working with those in our community that is passionate about landscaping jobs as us. We offer equal opportunity for employment and treat both our clients and crew with the utmost respect. When we hire new employees, we're looking for quality people that will show up on time and ready to get the day started!